Critic by LAM Wing Mui (posted by MB)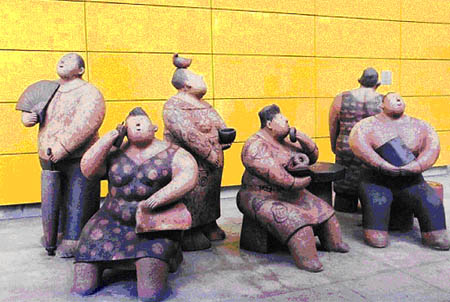 Art work does not only exhibit in the gallery or museum but also the public area. We called them public art. Rosanna Wei Han Li is one of famous public art artist who have a well-known art work shows in MTR Yau Tong Station –Entrance A forecourt titled "People passing by, people lazing by". It is a group of six ceramic sculptures which contain different postures. Li's concept is « Slow down and relax; Eat heartily and be glad; Spend more…OR less; Live without regrets ». In the article, I would like to share with you about how the art work impress me and the improvement of them.
Firstly, it is a good way to catch passengers and residents attention by fat human shape sculptures. Being a fit or thin people is a popular trendy in Hong Kong. However, Li does not like to show something normal. Her sculptures all are fat people which present in a leisure way such as eating doughnuts, sitting and reading, standing and fanning with paper pan, etc. I appreciate her idea. Her idea seem to put a green point on a red color paper. The relaxing attitude sculptures really bring a better atmosphere to a crowd MTR station. When the passengers see the sculptures, they may feel happy and less pressure to go back home. Besides, "keep fit" which is a term really including stress because we need to control our habit every moment. These sculptures are telling people that we do not need to do this and just kick out. Thus, it is really effective way to transfer this message by using a visual way.
<!–more–>
Although the art work is nice, there is still some room of improvement. The art work can be improved by increasing the interactive with the public. Li said that "I hope the group of sculptures may also serve as a meeting point for MTR passengers and people living in the neighborhood." However, there is no place to provide to the public so how can it be a meeting point? I suggest that there should be some empty chairs and tables between each sculpture. Hence, the public can integrate into the art work and feel the relax atmosphere in order to make it more likely a public art.
Furthermore, the art work can be more creative by adding some high-tech elements. I propose that there can be some sensors into each sculpture, for example, an infrared-red sensor. If the sensor detected some people, the sculptures would play corresponding sound effect. For instance, the feeding bird sculpture will play the creaking sound. I believed that the passengers willing to interact with a vivid Art work more than a silent work.
Besides the positive sides, I have a doubt which is the fat shaped sculptures may bring a wrong message to the public. Some people may affect and think that fat is relax, is good life style. It is totally an unhealthy concept. General speaking, citizen lifestyle is busy, if we encourage them to live lazy, they will do less exercise. And it is not the artist original idea but it cannot avoid. Therefore, I suggest that a description should put near the art work to let people understand what the artist original idea which can avoid wrong guessing cause bad society influence.
In conclusion, Li's art work is a nice public art but still have room of improvement. If the art work adds some new elements, it can be more attractive. Also, the artists should consider the influence to the public if it is a public art.