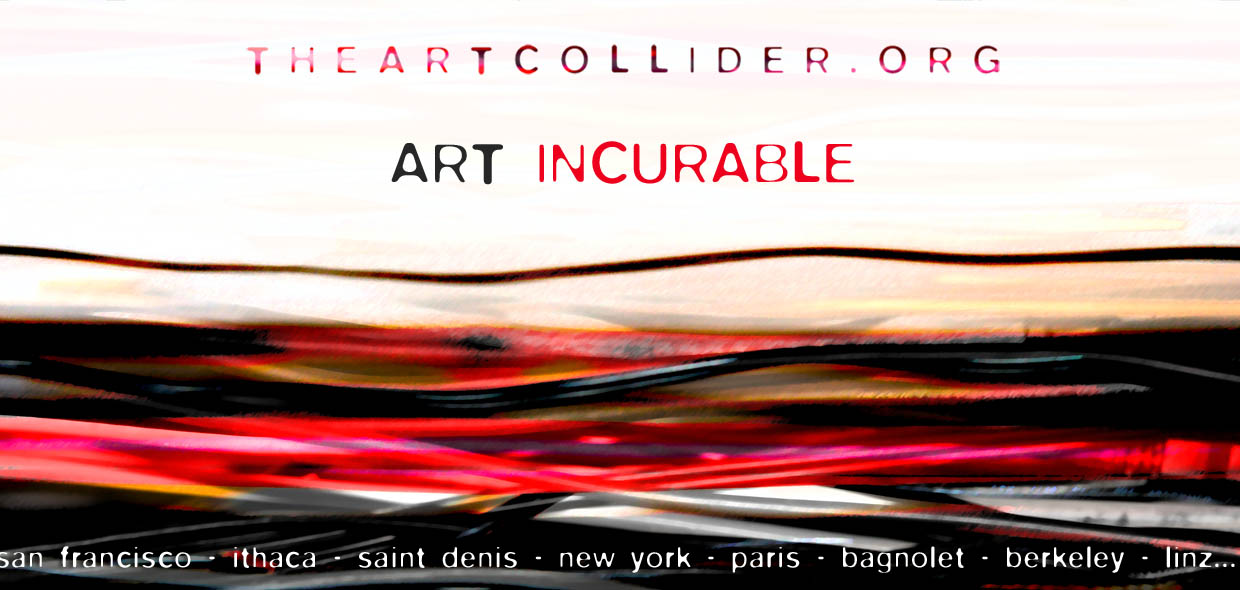 (UNCURATABLE [ART) INCURABLE]
En 2006, CITU lançait son réseau de création transactionnelle: IN OUT, avec une série d' expositions, OUTLAB, IN OUT X.0, plusieurs workshops et de nombreuses créations. Aujourd'hui, IN OUT devient The Art Collider (ce que l'on pourrait traduire par "collisionneur, accélérateur d'art"), un réseau online ouvert à toutes les participations. Il a été considérablement amélioré et augmenté en infrastructure et en outils au service de la création.
The Art Collider constitue maintenant un outil et un espace uniques de création connectée. Le réseau ne connaissant pas les frontières, The Art Collider prend une dimension internationale avec la participation d'artistes et d'organisations de renom.
Sebastian2 de développement d'outils de production et de création à distance, est né un premier lien international développé entre le CITU et San Francisco Art Institute. Partenriat soutenu par l'ambassade de France aux Etast Unis (FACE/PUF). Depuis les lieux et les organisations connectés se multiplient permettant au projet d'atteindre sa vitesse de croisière. Ainsi la KunstUniversität Linz, School of Visual Arts New York, Cornell University, Ithaca NY, et UQAM Montreal ralient le Collider pour partager pleinement cette expérience de création connective.
Un premier événement synchronisé permet à ces différentes institutions de manifester leur participation au projet. Connectant les œuvres produites en ligne avec les lieux de présentation et d'exposition des différents partenaires. San Francisco, New York, Ithaca, Paris, Bagnolet, Linz… A la fois incorrigible et échappant aux formes classiques de sélection curatoriale, la première présentation, 3ème ExpoLabo du Citu :
ART INCURABLE ("UNCURATABLE ART")
THE ART COLLIDER
du 7 au 16 avril 2010 14h – 19h30
inauguration le 6 avril à partir de 17h30
à la Bellevilloise, 19-21 rue Boyer Paris 75020
Du 7 au 16 avril
Au même moment plusieurs événements seront connectés à l'Art Collider grâce aux partenaires et à l'engagement des artistes:
San Francisco Art Institute (SFAI): Lynn Hershman Leeson, Paul Klein, Michella Rivera-gravage

Cornell University, Architecture, Art and Planning: Renate Ferro

School of Visual Arts (SVA) New York: Joseph Nechvatal

Kunstuniversität Linz, Interface Culture Lab: Laurent Mignonneau, Christa Sommerer et Martin Kaltenbrunner

UQAM, Montréal, Grégory Chatonsky

La fonderie de l'image, Bagnolet, Abstract Birds (13 avril 20h30)

Berkeley University of California, Ashley Ferro-Murray
Il est recommandé de s'inscrire sur notre mailing liste et sur notre groupe de discussion: http://groups.google.com/group/theartcollider
The Art Collider est ouvert à tous. N'hésitez pas à participer avec un projet de dernière minute, cliquez sur le bouton "get started" (commencer) sur le site et regardez la vidéo sur le Collider à l'adresse suivante: http://wiki.theartcollider.org/movie
The Art Collider
Une initiative du laboratoire Citu-Paragraphe, Universités Paris 8, Paris 1
Concept et direction de recherche :Maurice Benayoun
Développement de la plateforme : Robin Gareus et Pierre Jullian de la Fuente
Programme de recherche Sebastian 2 Paris – San Francisco: Cap Digital, Région Ile de France
Soutenu par le programme PUF/FACE de l'ambassade de France aux États Unis
Avec l'aide du Ministère de la Culture et de la Communication (MRT/DDAI)
Liste des artistes présents dans l'exposition sur: http://www.citu.fr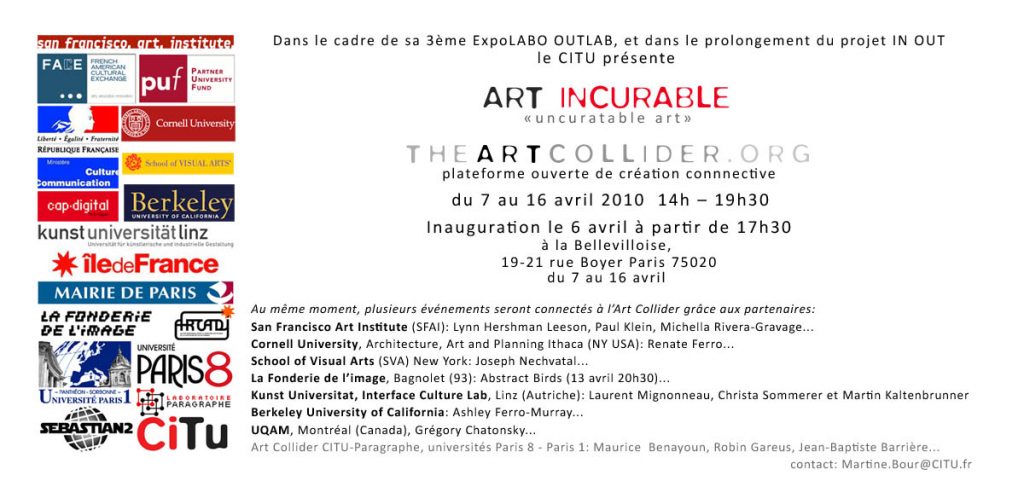 (UNCURATABLE [ART) INCURABLE]
International event, exhibition of connective art