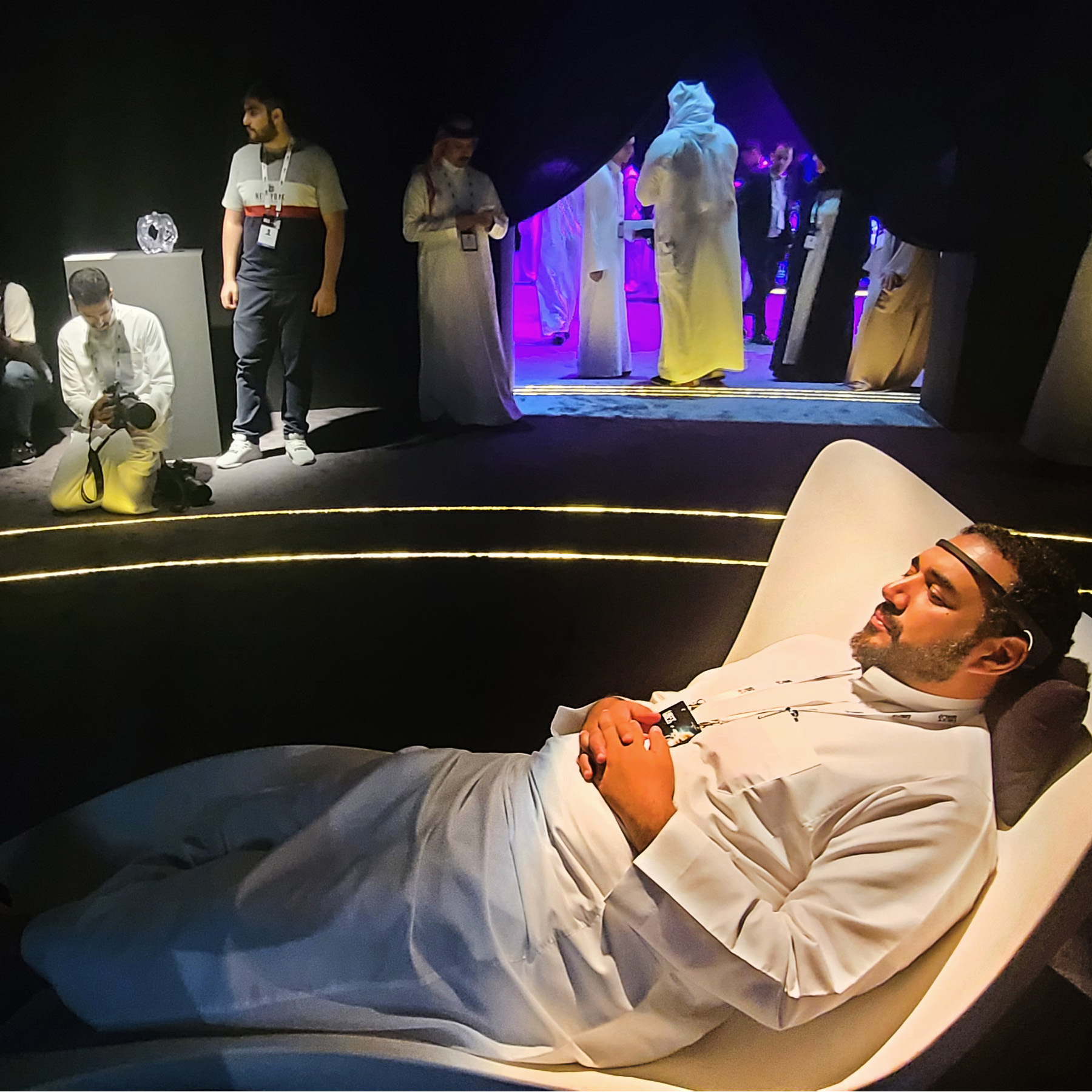 Value of Values / Next World Forum
TRANSACTIONAL ART ON THE BLOCKCHAIN
Maurice Benayoun, with Nicolas Mendoza and Tobias Klein.
Four Seasons, Riyadh, Saudi Arabia, 7-8 September 2022
Human abstractions live in our mind.
Human Values: LOVE, POWER, PEACE, KNOWLEDGE, are human abstractions
If making art is giving shape to ideas,
we can shape human values directly from our mind
Controlling the form just by thinking
Brain-Computer Interaction (BCI) makes neuro-design possible
the resulting liquid shape is like THOUGHT IN MOTION
BRAIN FACTORY and BRAIN WORKERS
Value of Values (VoV) is an art project
that helps us to better understand human values
Value of Values is exhibited all around the world
The visitors of the show give shape to values
Visitors are Brain Workers who own the model they have created
Models become "VoV", NFT tokens registered to the Blockchain
Brain workers get a Value of Values wallet
and scan the VoV QR code
HAPPINESS07740 VoV is now part of the collection
The collector can decide to keep it, to sell it, or to barter it
The value of HAPPINESS07740 VoV will depend on the trading
TRANSACTIONAL POETRY vs TRADING OF VALUES
Bartering PEACE to get MONEY is not a simple financial act,
It is a symbolic act,
converted into TRANSACTIONAL POETRY
Transactional Poetry generates a series of ETHICAL STATEMENTS
Inspired by actual transactions
If you give away MONEY for LOVE
it may become: "YOU ALWAYS NEED MORE MONEY TO FIND LOVE"
trading defines also the ethical profile of people, cities and countries
a collection expresses collectors' priority in life.
Trading Charts show us how Values resist to market forces
REIFICATION of VALUES
VoV characters become valuable symbols, like calligraphy on scrolls
They represent our Values, so they can be displayed as our beliefs
They can be worn, in fashion, and tell the others about us
Although VoV tokens are abstract models
They can become physical
They can be reified, commodified as objects or artworks,
collectors can now speculate on the actual Value of Values
With the support of Daniel Kapelian and the technical team: Neuro design Lab: Tony Zhang Tian Yi, Sam Chan, Timmy Leung, Wang Xiao, Ann Mak. Riyadh: Sacha Notey Pedezert, Hwoemin Kim. And logistics by Osage Gallery.
VIDEO