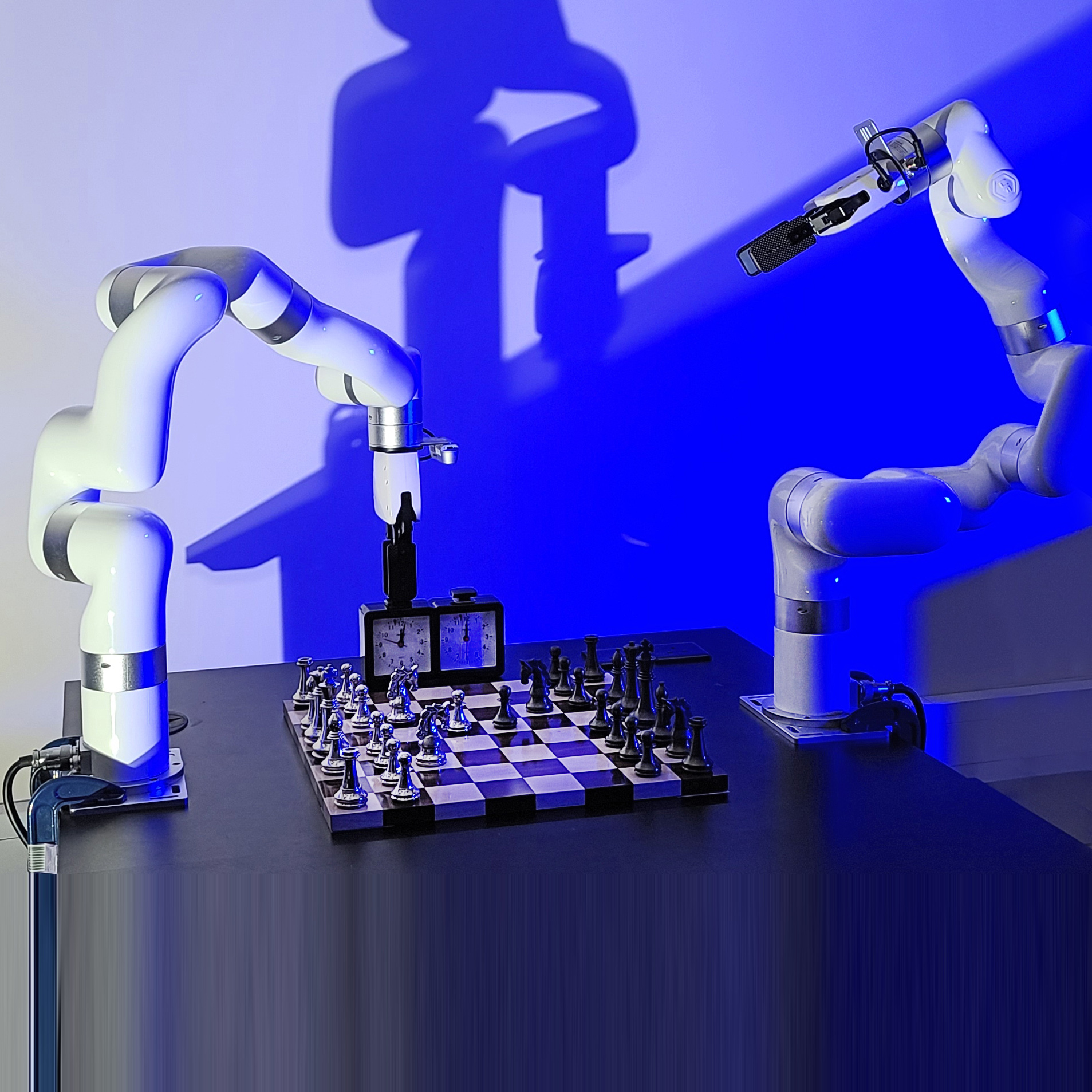 Power Chess
from the Press Release by Focal/Naim, that commissioned the work
Focal Powered by Naim to showcase exclusive global tour of MoBen's interactive artwork:
POWER CHESS
 
To celebrate the roll-out of their global network of Focal Powered by Naim stores, the two leading audio brands have worked with the artist Maurice Benayoun, AKA MoBen, to create an original piece around sound, immersion, and experience. Power Chess presents two robots playing a game of chess unlike any other.
On show for the first time in August 2021, at the opening of the flagship Focal Powered by Naim store in Cannes, the piece will then travel to each retail store worldwide.

A COMPLETELY ORIGINAL WORK OF ART
Maurice Benayoun and his collaborators invited two robots (robotic arms, to be precise) to compete in a game of chess. MoBen chose the game as a metaphor for society. This is the meaning behind the piece: making societal phenomena visible, particularly power relations, hence the name of the piece: Power Chess. At each new Focal Powered by Naim store location, Power Chess will be presented and experienced through different products, including the latest Focal Celestee and Clear Mg headphones, powered by the Naim Uniti Atom Headphone Edition, plus a range of classic, active and integrated Focal loudspeakers. You will experience all the emotions and actions of the chess game as the robotic competitors fight it out. For MoBen, works of art are not just objects to be observed but become "subjects capable of complex behaviors. It is this experiential approach Focal and Naim want to offer their customers in their concept stores.

INTERACTIVITY & SOUND DESIGN
The expressiveness of the robots, their movements designed to be as close to humans as possible, creates an unsettling form of ambiguity. Each robot sees the game, it acts, and it makes decisions. The system allows you to perceive, through movement and sound, the apparently innocent elements of this playful confrontation. Power or guile; subtlety or spectacle – which strategy will win? With mechanical gamification, the Focal Powered by Naim spaces expand the spectrum of experience and allow onlookers to see, hear and reflect on the game. Through immersive sound, the spectator is involved in the action, taking it to another level and contributing significantly to the intensity of the installation.

ABOUT MAURICE BENAYOUN
Maurice Benayoun is a French artist, digital art pioneer, curator, and theorist who is widely acclaimed for his international shows. He lives and works in Paris and Hong Kong. His practice is focused on technology and how it helps us to understand the world. His work includes interactive and urban installations, as well as virtual reality, neuro-design, artificial intelligence, and Blockchain.

Created in collaboration with PerMagnus Lindborg and Vvzela Kook (sound design) and Ray LC (robot behavior design), Power Chess is commissioned by Focal/Naim in partnership with Neuro-design Lab/ACIM and the School of Creative Media of the City University of Hong Kong.

Charlie Yip, RAY LC, MoBen, Tony Zhang, some of the team members during the video shooting at SCM/CityU HK…