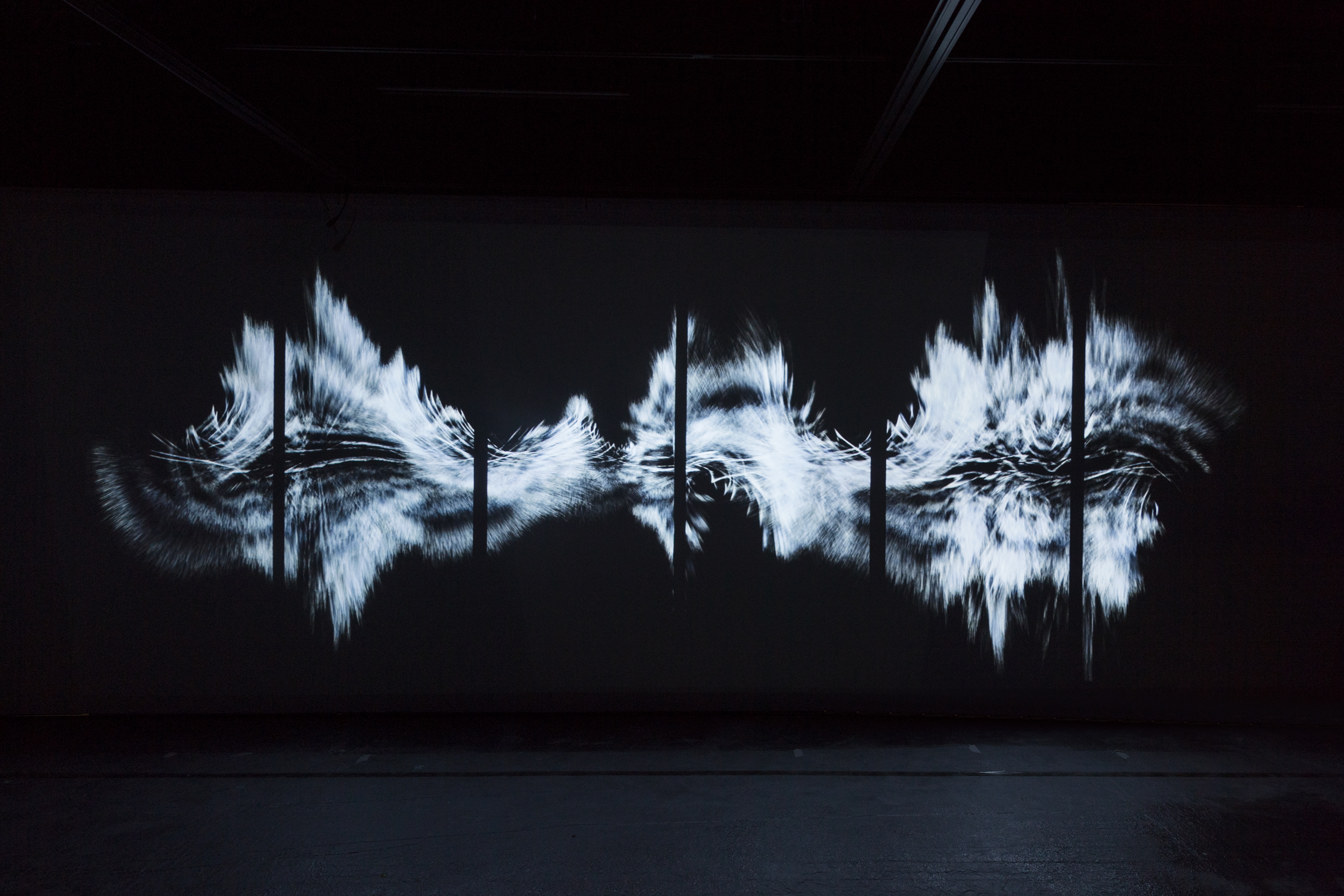 Young Media Artists in China (HK)
On the Road is a unique, annual project initiated in 2014 by the Guan Shanyue Art Museum,
Shenzhen, here seen in its 2018 version. The process involves 15 curators, art critics and scholars, from major institutions, art schools and museums throughout China and Hong Kong, proposing a selection of promising young Chinese artists. This collective curatorial process results in the creation of an impressive "nomination exhibition" from which a final selection of the best 20-30 works is then made.
This year, for the first time in its history, the annual On the Road exhibition is dedicated to New Media Art. With the title Young Media Artists in China, the 50 or so works selected by the nominating committee (along with 6 contributions by the faculty of the School of Creative Media, CityU) provide a stimulating and exciting overview of the media art scene across China today, and demonstrates how young Chinese artists are exploring, manipulating, and playing with media, often combining both older and 'newer' media to new ends.
During the past 10 years, the new media art scene has grown in size and quality in a country highly receptive to innovation. China's own rich and unique history of image-making, painting and calligraphy, offers a tradition where time and space, black and white, sound and silence are often juxtaposed in a subtle dialogue made up of contrasts and complicity. Building on this tradition, with diverse and modern sensibilities, young Chinese media artists are digging new paths that leave firm tracks across the ever-changing field of contemporary art.
由深圳關山月美術館於 2014 年首辦的「在路上」是個獨特的年度項目,到今年已是第五屆。每一年關山月美術館都會邀請超過15位來自中國及香港各大學院、藝術學校和美術館的策展人、藝評人和學者組成提名委員會,提名有前途的中國青年藝術家。再經過委員會選拔及策劃,其中約 20 到 30 位藝術家的作品就集結成一年一度的「作品提名展」。
《在路上》今年首次以「新媒體藝術」為主題,香港站的展覽就以《中國年輕媒體藝術家》為名,展出由提名委員會選出的 30 多位藝術家及6位城市大學創意媒體學院教師的作品。展覽一方面為中國當代媒體藝術現況作一個概括的描述,同時亦展示年輕藝術家們如何探索、控制、或是盤弄不同的媒體,把「新」「舊」媒體共冶一爐。
中國是個崇尚創新的國度,十多年來,其媒體藝術無論在數量或質量上都有長足的進步。在圖像製作、繪畫和書法方面中國有獨特兼且悠久的歷史,在這些藝術中「時間」「空間」、「黑」「白」、「聲音」「寂靜」等等範疇錯綜複雜,常常處於既敵對又和諧的微妙狀態中。建基於這個藝術傳統,中國青年媒體藝術家們以自己對當代的感知為引,孜孜不倦地挖掘新路徑,在當代藝術的發展上留下足跡。
CREDITS
主辦單位 / ORGANIZERS
香港城市大學
City University of Hong Kong
中國美協策展委員會
China Artists Association Curatorial Committee
深圳市關山月美術館
Guan Shanyue Art Museum
出品人 / PRODUCERS
郭位 香港城市大學校長
Way KUO, President of City University of Hong Kong
范廸安 中國美術家協會策展委員會主任、中央美術學院院長
FAN Dian, Chairman of CACF, Director, Curatorial committee, Chinese Artists Association
陳湘波 深圳市關山月美術館館長、廣東省美術家協會副主席
CHEN Xiangbo, Director, Guan Shanyue Art Museum, Vice-chairman, Guangdong Artists Association
學術顧問 / ADVISORS
艾朗宏 香港城市大學創意媒體學院院長
Richard ALLEN, Dean of School of Creative Media, City University of Hong Kong
邱志傑 中央美術學院實驗藝術學院院長
QIU Zhijie, Dean, Department of Experimental Art, China Central Academy of Fine Arts
召集人 / CONVENORS
范懿莎 香港城市大學城市大學展覽館總監
Isabelle Jennifer FRANK, Director, City University Exhibition Gallery, City University of Hong Kong
顏為昕 深圳市關山月美術館副館長
YAN Youxin, Deputy Director, Guan Shanyue Art Museum
策展團隊 / CURATORIAL TEAM
總策展人 / CHIEF CURATORS
莫奔 香港城市大學教授
Maurice BENAYOUN, Professor, City University of Hong Kong
范迪安 中國美術家協會策展委員會主任、中央美術學院院長
FAN Dian, Chairman of CACF, Director, Curatorial committee, Chinese Artists Association
陳湘波 深圳市關山月美術館館長、廣東省美術家協會副主席
CHEN Xiangbo, Director, Guan Shanyue Art Museum, Vice-chairman, Guangdong Artists Association
執行策展人 / DEPUTY CURATORS
麥安 香港國際詩歌之夜創作總監、獨立策展人、 香港城市大學創意媒體學院高級副研究員
Ann MAK, Creative Director, Hong Kong International Poetry Nights; Independent Curator; Senior Research Associate, School of Creative Media
盛葳 中国美术家协會策展委員會副秘書長、《美術》雜誌副主編
SHENG Wei, Deputy Secretary General of Curatorial Committee, China Artists Association; Deputy Editor-in-Chief, Arts Magazine
吳洪亮 中國美術家協會策展委員會副主任暨秘書長、 北京畫院副院長
WU Hongliang, Deputy Director, Chief Secretary of Curatorial Committee, China Association; Associate Dean of Beijing Art Academy
張新英 深圳市關山月美術館學術部主任
ZHANG Xinying, Director of Academic Division, Guan Shanyue Art Museum
朱小鈞 大道藝術基金執行董事
ZHU Xiaojun, Executive Director of Avenue Art Foundation
助理策展人 / ASSISTANT CURATORS
伍詩妮 深圳市關山月美術館學術編輯
WU Shini, Academic Editor, Guan Shanyue Art Museum
彭寶玉 深圳市關山月美術館學術編輯
PENG Baoyu, Academic Editor, Guan Shanyue Art Museum
香港城市大學製作團隊 / CITY UNIVERSITY OF HONG KONG PRODUCTION TEAM
范懿莎
Isabelle Jennifer FRANK
林家銘
Kevin LAM
吳彥真
Fion NG
潘韻怡
Doris POON
何穎
Wendy HO
李遣証
LEE Hin Ching
沈維文
Sheena SHUM
提名專家名單 / EXHIBITION NOMINATORS
艾朗宏 香港城市大學創意媒體學院院長
Richard William ALLEN, Dean, School of Creative Media, City University of Hong Kong
莫奔 香港城市大學教授
Maurice BENAYOUN, Professor, School of Creative Media, City University of Hong Kong
陳小文 魯迅美術學院當代藝術系系主任
CHEN Xiaowen, Director, Department of Contemporary Art, Lu Xun Academy of Fine Arts
馮峰 廣州美術學院實驗藝術系系主任
FENG Feng, Director, Department of Experimental Art, Guangzhou Academy of Fine Arts
付曉東 北京空間站藝術總監、知名策展人
FU Xiaodong, Creative Director, Beijing Space Station
管懷賓 中國美術學院跨媒體藝術學院院長
GUAN Huabing, Dean, Department of Transmedia Art, China Academy of Art
李川 四川美術學院新媒體藝術系系主任
LI Chuan, Director, Department of New Media, Sichuan Fine Arts Institute
李振華 中國當代知名新媒體藝術策展人
LI Zhenhua, Curator, Chinese New Media Art
繆曉春 中央美術學院攝影與數碼媒體工作室教授、著名媒體藝術家
MIAO Xiaochun, Professor, Photography and Digital Media Studio, China Central Academy of Fine Arts
邱志傑 中央美術學院實驗藝術學院院長
QIU Zhijie, Dean, Department of Experimental Art, China Central Academy of Fine Arts Academy of Fine Arts)
王端廷 中國藝術研究院美術研究所外國美術研究室主任
WANG Danting, Director, Department of Foreign Art, Research Division of Fine Arts, Chinese National Academy of Arts
肖豐 湖北美術院院長
XIAO Feng, Dean, Hubei Institute of Fine Arts
彥風 中國美術家協會實驗藝術委員會負責人
YAN Feng, Head, Experimental Art Committee, Chinese Artists Association
袁曉昉 湖北美術學院影像媒體藝術系系主任
YUAN Xiaofang, Director, Department of Image Media Art, Hubei Academy of Fine Arts
張錳 天津美術學院影像藝術系系主任
ZHANG Meng, Director, Department of Visual Art, Tianjin Academy of Fine Arts
張小濤 中央美術學院實驗藝術系教授、碩士生導師、知名媒體藝術家
ZHANG Xiaotao, Professor, China Central Academy of Fine Arts
展覽設計 / EXHIBITION DESIGN
Collective Studio, Betty Ng
平面設計 / Production
Collective 與林卓宏
特別鳴謝 / SPECIAL THANKS to
香港城市大學出版社
City University of Hong Kong Press
香港城市大學藝術與媒體策展科碩士課程學生
(導師:孔慧銳、張嘉莉、魂游)
MA students of Curating Art & Media, School of Creative Media, City University of Hong Kong
(Mentors: Harald KRAEMER, Clara CHEUNG, Wen Yau)