The Neglected Name Maurice Benayoun
a media artist's creative journey

by Ann Mak
6 April 2023
Translated from the Chinese
Published in "Artistic Moments"
All because of the inscription on the monument…
In the main courtyard of the French Central Bank (Banque de France) in Paris's 1st district, there is a marble plaque commemorating the bank employees who perished in the war. "North Africa" is etched at the bottom, referring to the Algerian War of Independence. There is no year, but only three lonely names. One of them is Maurice Benayoun, who shares the same name and surname as the artist Maurice Benayoun (MoBen): the ghost on the monument was his father.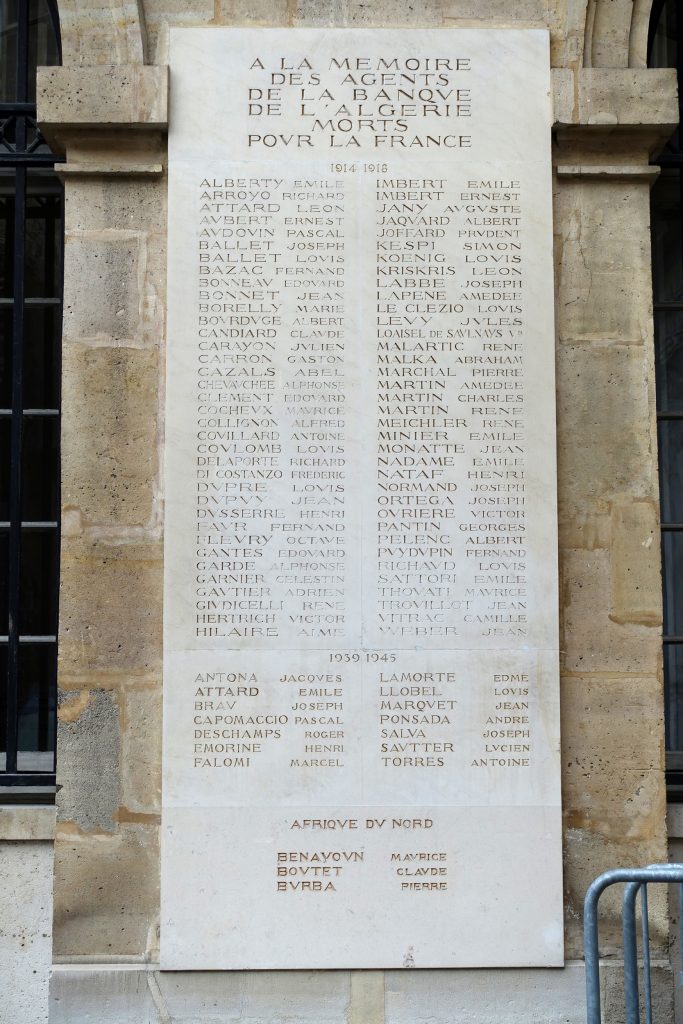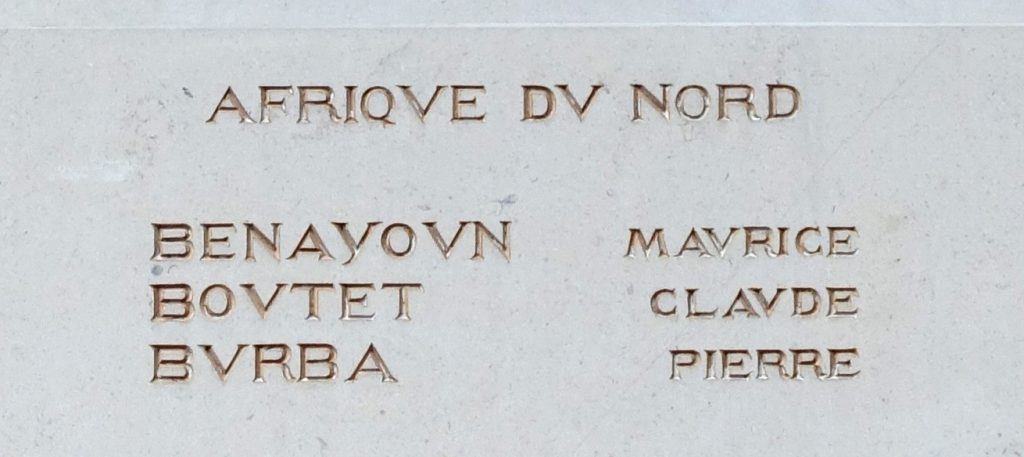 A commemorative plaque in the main courtyard of the Banque de France in the 1st Arrondissement of Paris.
Maurice Benayoun is a French artist, curator, theorist, and pioneer of contemporary media art, living in Hong Kong since 2012. He is claimed to have an exceptional achievement in the realm of media art. Nonetheless, during his ten-year tenure in Hong Kong, he worked on numerous projects, most of which were invited by Europe, South Korea, Australia, the USA, and Taiwan. Surprisingly, in Hong Kong, apart from City University of Hong Kong where he taught for 11 years, only a few institutions invited him to participate in projects such as exhibitions or public lectures.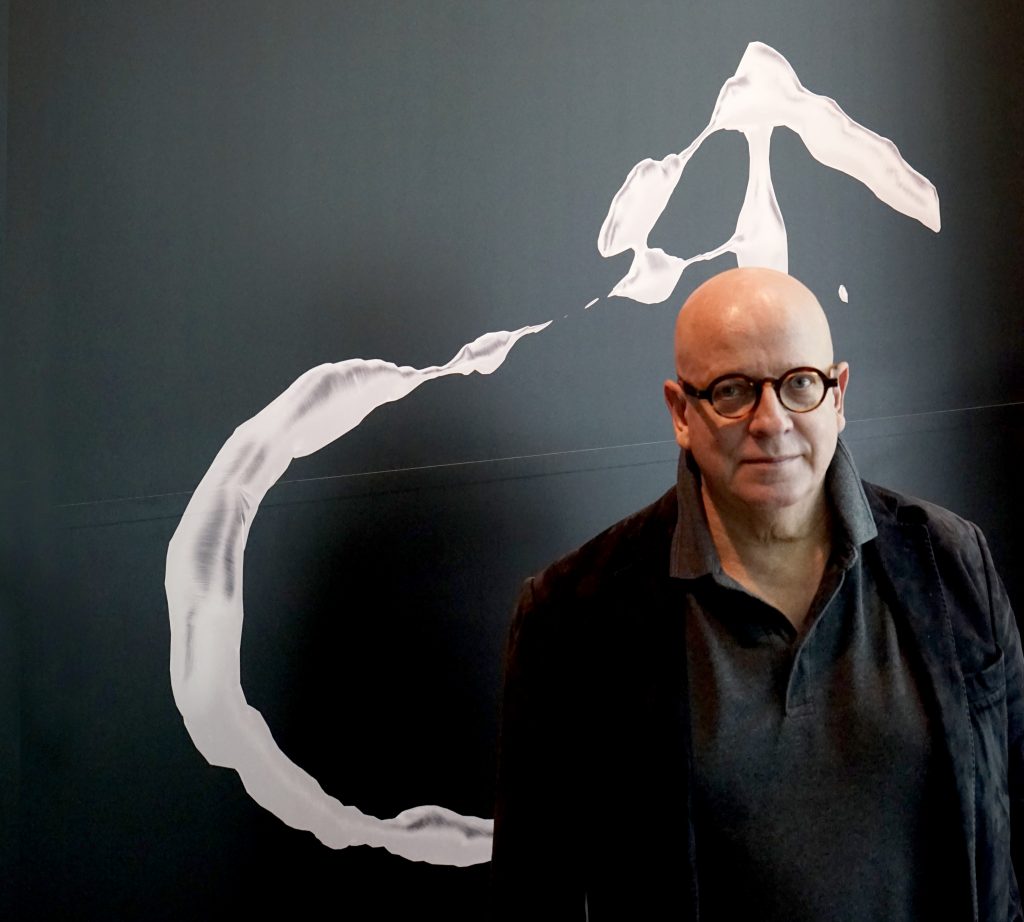 Maurice Benayoun (Ph. Ann Mak)
The Trailblazer
VR has received passionate reception in the art world in the last ten years, but Maurice created the virtual reality installation Is God Flat? as early as 1994.
In 1993, at a time when people were stuck with colored canvases and white marble for museum displays, he came up with the idea of Art After Museum, a full concept for a digital space to display a collection of Virtual Reality contemporary art installations that won the "Villa Medicis Hors Les Murs" award. This project was never seriously considered or realized.  However, triggered by the outbreak of the pandemic in 2020, everyone flocked to the virtual platform to showcase their works.
He arrived in Hong Kong in 2012. Back then, media art in Hong Kong was still in its infancy, and everyone was experimenting with the collaboration of technology and art. As a foreigner, he was deeply moved by the skyscrapers and stunning night scenes along the coast. In 2014, he spotted the most eye-catching International Commerce Center (ICC) and initiated the Open Sky Project as a curator. He proposed to real estate developer Sun Hung Kai to turn its 118-story façade (70,000 square meters) into an artistic video screen with basic technology, creating the world's highest outdoor exhibition venue for media art. In this one-of-a-kind public art space, over 200 local MFA students and international media artists showcased their video and audio works. This practice of fostering art through education should be considered ground-breaking. From a curatorial standpoint, this "urban media installation" project challenges the convention that the audience must enter the venue to see the work, opening up a new dimension by actively bringing the art to the audience.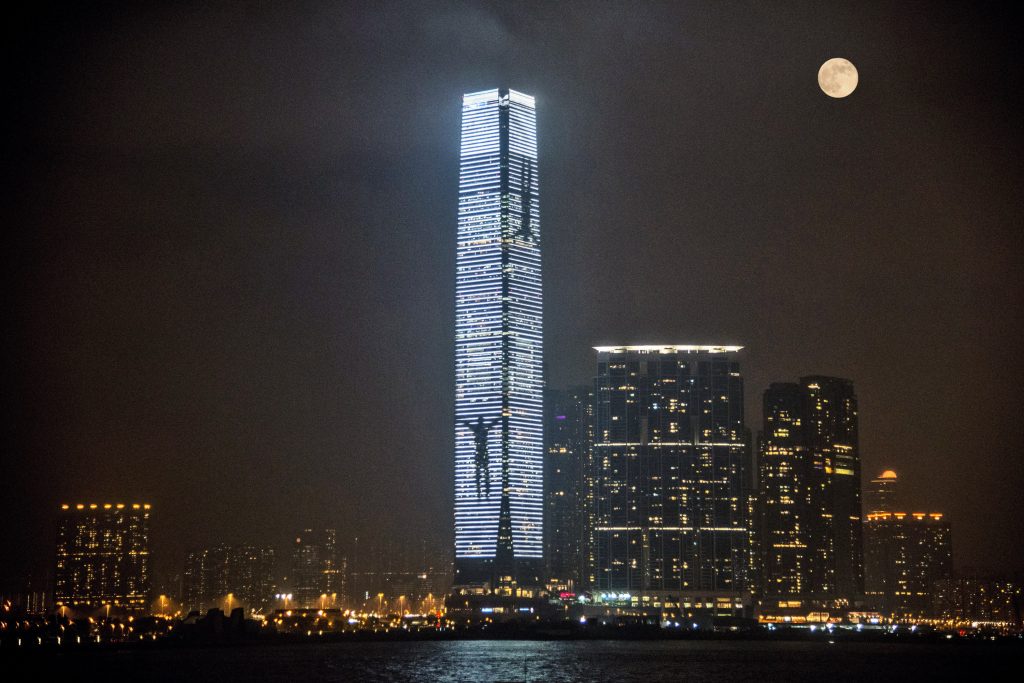 Eternal Recurrence by Jim Campbell,  Open Sky Project on the ICC Tower Hong Kong, 2014-2016
Late in March 2023, the Osage Art Foundation debuted MoBen's solo exhibition Value of Values utilizing brain wave detection (EEG), blockchain, and non-fungible tokens (NFT) technologies. This experimental format permits the works to move between the virtual and the real to investigate the shaping, distribution, and ranking of human values.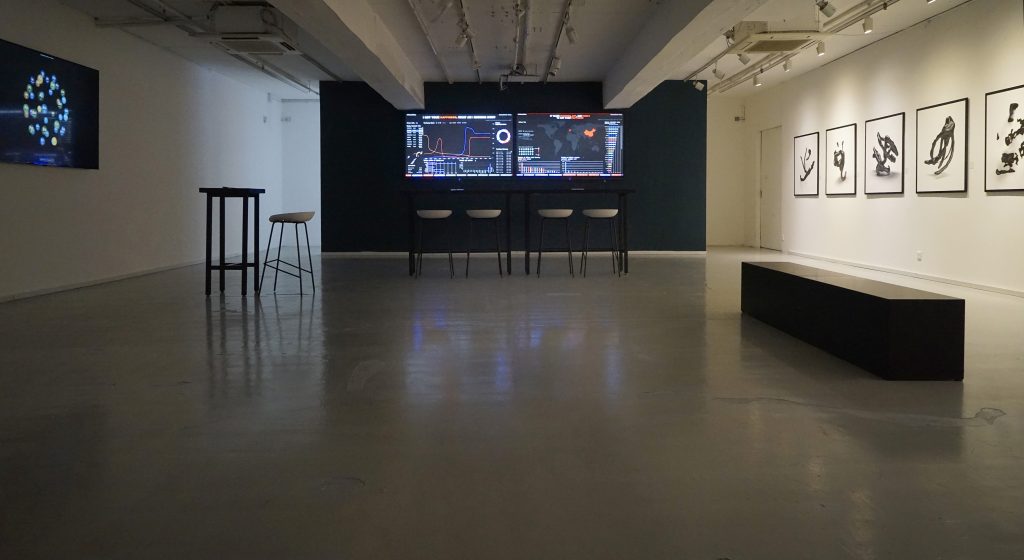 Value of Values, exhibition view (OSAGE Gallery HK, 2023)
Value of Value is a complex exhibition covering various issues, including science, culture, finance, and ethics. Most of the content of the exhibits has been introduced in the article "Epic Journey Shaped by Value Form" ( https://bit.ly/3UbA0Tc ); therefore, this article focuses on the Conceptual Timeline of the artist's creative process structuring over the past 40 years to understand the context of the artist's works and creative concepts.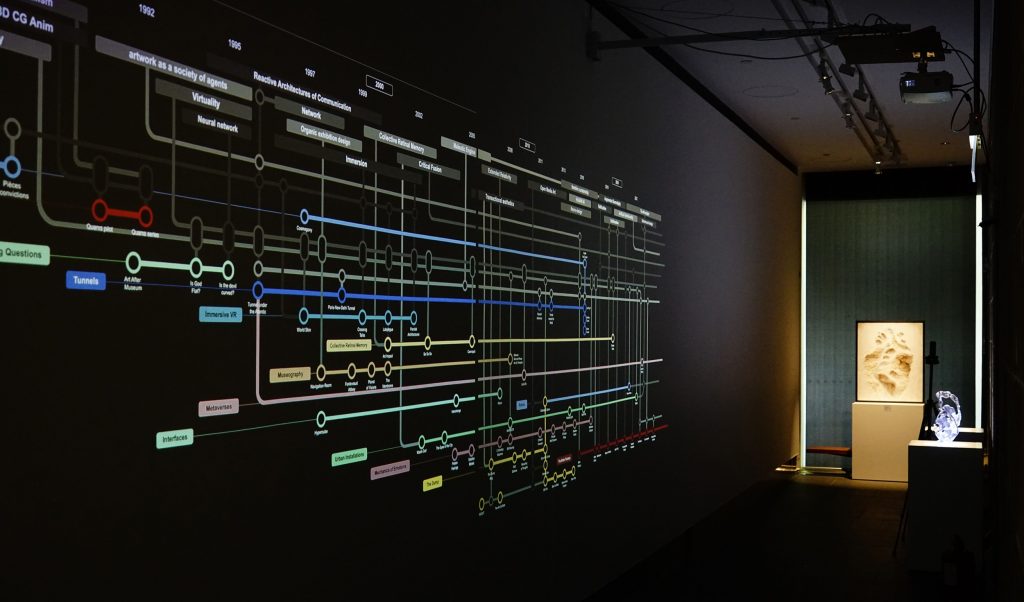 The Conceptual Timeline, 4 decades of works and concepts.
This exhibition was conceived three years ago, and it nearly failed due to the pandemic and numerous obstacles. Since its launch, however, audiences have responded positively, demonstrating that Hong Kong audiences have the aptitude, ability, and desire to read in-depth works.
The Fictional Reality of a Re-imagined Childhood
What is known about MoBen is that his ancestors and father resided in Algeria. His father, Maurice, was 23 years old in 1956, a bank clerk, the family's breadwinner, a French army conscript, and the father of his two children. Yet before he could learn about the war, his job prospects at the bank or the birth of his second son, he was ambushed and killed in a bus. In 1957, MoBen was born in Algeria. The bereaved wife gave her son his father's name, "Maurice". He and his family moved to France in 1958, and he spent most of his childhood in the northern suburbs of Paris.
When he was young, he was curious about the world and often asked questions and counter-questioned them. The early death of his father cast a shadow over his childhood. Carrying his father's name made him imagine that his life would end before the age of 23, fuelling his thirst for knowledge. He eagerly sought out all the information he could and devoured books of all kinds with great enthusiasm from a young age.
During his senior year of high school, he shifted his focus from physics to art, literature, and philosophy making him feel ecstatic in the literary realm of thinking. His father's aspiration was to become an engineer, so he dreamed of becoming an "inventor" and solving all the world's problems! His perception of his father is both virtual and real. Perhaps fuelled by this, many of his works challenge the boundary between the real and the virtual, utilize the most cutting-edge technology, and conduct experiments at different latitudes in both the virtual and real worlds.
However, in primary school, he stated that dyslexia, perhaps exacerbated by what is now termed ADHD, kept him from concentrating, and his near-sightedness prevented him from clearly seeing what the teacher wrote on the chalkboard. These learning limitations compelled him to reconstruct ambiguous words and concepts.  The inability to concentrate urged him to cultivate his diffuse thinking, and he was unwilling to be bound by any rules and concepts.
Thus, he was not fond of adhering to established rules or conforming to others' ideas. These early life experiences shaped his attitude and creative approach. He dedicated his life to discovering perspectives that others had overlooked and challenging conventional frameworks of all kinds.
Reflections on Technology and Art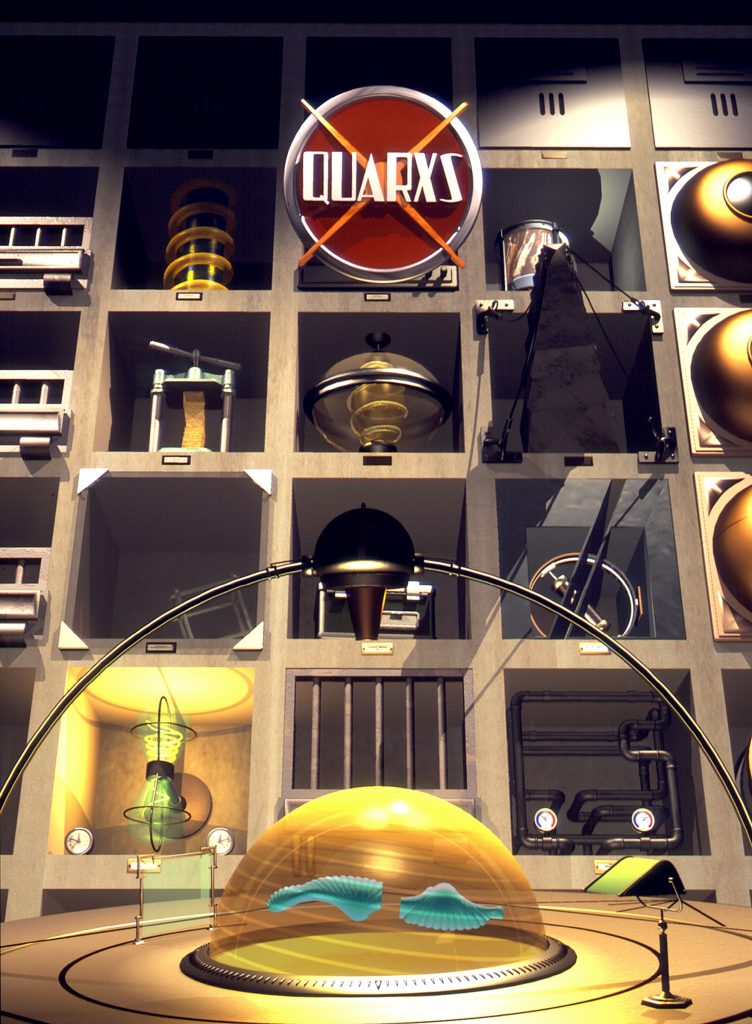 Quarxs, 3D CGI HD TV series, Dir. M. Benayoun, with François Schuiten and Benoît Peeters,
Z-A Production, Canal+, France3, 1991-1993
The emergence of new technologies has accelerated the development of new media art, but for MoBen, the concept is key to artistic creation. Between 1990 and 1993, while most people were still watching "Sesame Street," Benayoun collaborated with Belgian graphic writer François Schuiten on Quarxs, the first high-definition computer graphics (3DCG) for an animated TV series. Quarxs, which aired in prime time, earned multiple international prizes. Yet, in an interview, he stated, "I'm interested in scientific truth, not very complicated computer graphics, even if they are quite sophisticated."
Many scholars propose that the opposite of the "virtual" is the "real". However, for MoBen, the virtual is "a necessary condition of the real". Virtual reality and "virtuality" more broadly, have profound implications for MoBen's artistic practice. In 1998, he created World Skin, a Photo Safari in the Land of War with the composer Jean-Baptiste Barrière, which won the coveted Golden Nica Award in the Interactive Media Art category of the Ars Electronica Festival. This piece is an interactive virtual reality artwork, a "virtual experience" that organizes a photo tour of a virtual war site. Participants capture a moment in this life-or-death environment by shooting images with physical cameras while traveling through the three-dimensional space. Every element shot during the tour vanishes and is replaced with a white silhouette. Its metaphor incorporates world critique and questioning that cannot be articulated in words.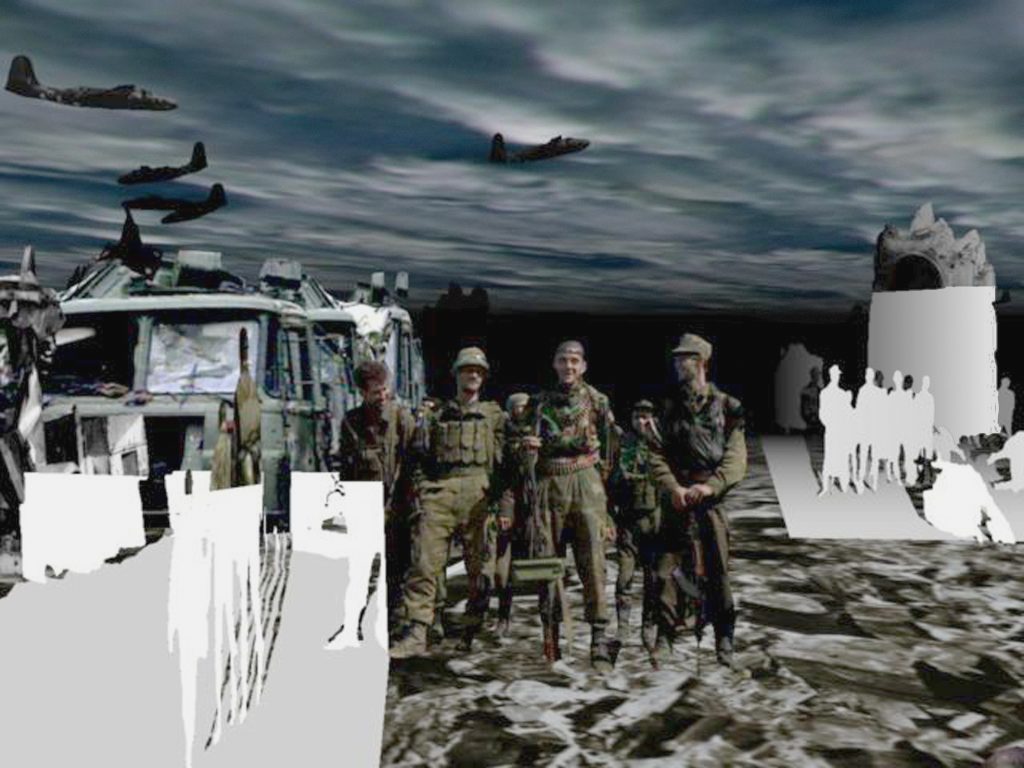 World Skin, A Photo Safari in the Land of War, VR CAVE installation, 1997,
On the frame of a printed World Skin Shot, extracted fragments appear in white.
In the mid-1990s, when the World Wide Web was gaining popularity and before social media or instant messaging apps existed, MoBen completed his first virtual tunnel, The Tunnel under the Atlantic, in 1995. Technically, this was the first virtual reality art installation across continents. The project invited visitors from Paris and Montreal to dig cultural tunnels, allowing visitors to the Centre Pompidou in Paris and the Museum of Contemporary Art in Montreal to communicate with participants on both sides of the Atlantic through their own video images floating inside the newly constructed virtual reality environment.
From a creative perspective, the tunnel served as a means of communication between people, conveying images and messages. It is seen as a "post-McLuhan style" of communication, referencing Marshall McLuhan's theory in the 1960s that media is an extension of the body. Through these tunnels, we discover "the phatic dimension of communication," which helps build and maintain contact.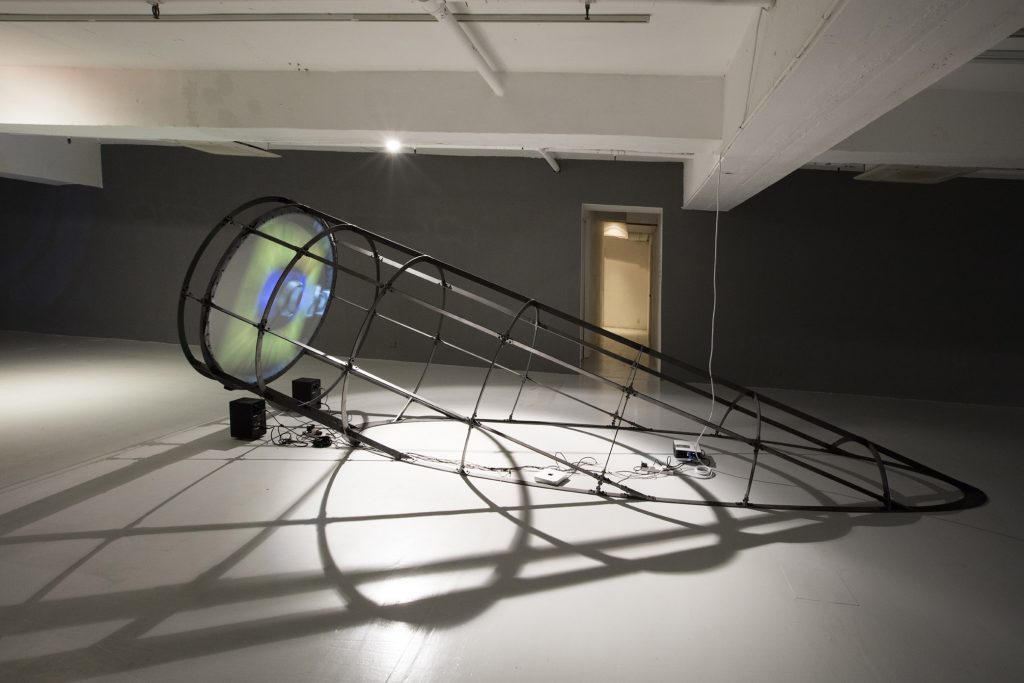 Virtual Tunnels Series, Colors Tunnel, during Just Dig It! show at Osage Gallery 2016
On July 20, 1969, American astronaut Neil Armstrong landed on the moon and created a myth that "technology has shortened the distance between people," which influenced a generation's ideology and the evolution of contemporary art. MoBen's counterpoint is "Technology separates people from one another." This concept was witnessed in another group of works.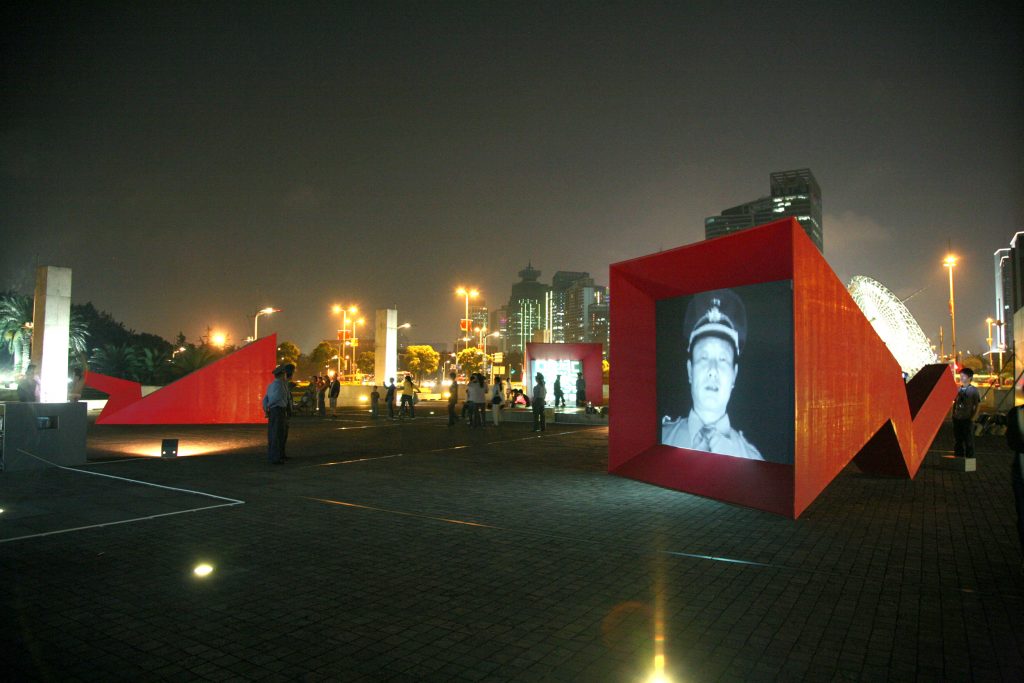 NeORIZON, urban media installation, Internet, VR, QR codes
eArts Festival, Century Avenue, Pudong, Shanghai  2008
In 2008, MoBen presented NeORIZON, an interactive urban installation showcased in Shanghai. The installation aimed to explore people's identities in cosmopolitan environments, investigating the relationship between the city and the people . The project's concept was to break away from the traditional people-oriented approach and examine the relationship between individuals and the city. The faces of the participants were transformed into large QR codes, which became their online identities. The accumulation of these online identities served as data to construct a virtual city.
Another artwork, Emotion Wind, is a world map of emotions that is automatically generated using real-time data from 3,200 major cities worldwide. The emotions of the world are then portrayed as air currents exposed to real winds and projected onto a large screen. Viewers can instantly watch the state of the world's emotions based on Internet search statistics. David Rosenberg, the curator of the 2014 Shanghai show, describes Emotion Wind as "constantly changing and evolving, and at the same time showing us that we are experiencing or witnessing different processes, encountering unpredictable transformations that may seem familiar but also strange."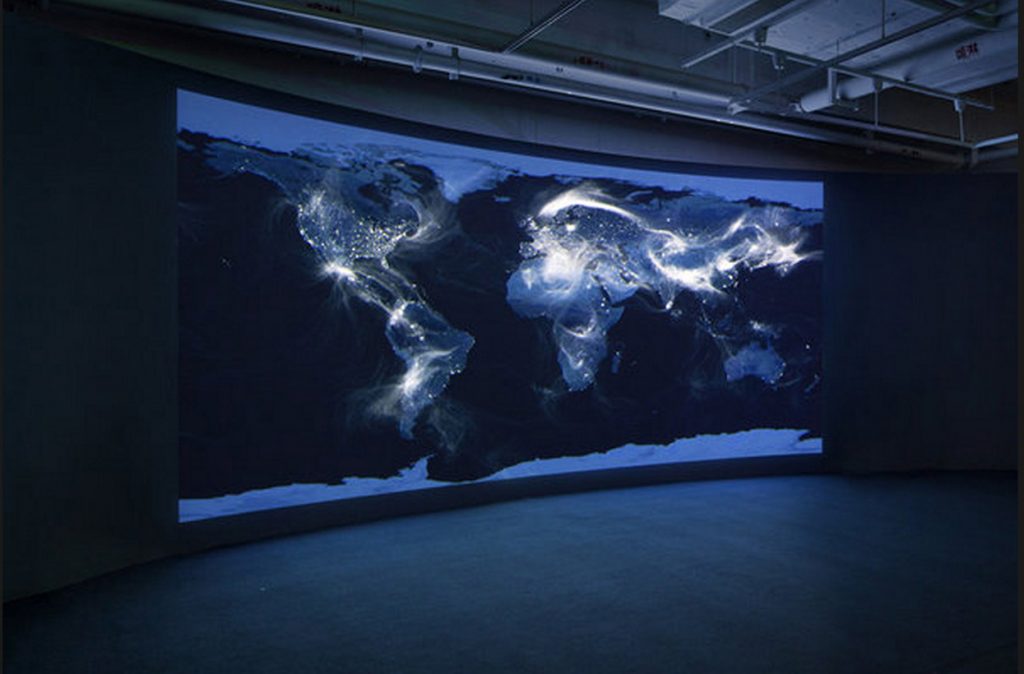 Emotion Winds is a map of the world's emotions moved by the real winds, Internet, K11 Art Foundation, Shanghai, 2014
The Intersection of Art, Technology, and Human Values
The growth of technology has altered our relationships with the world, people, and objects, as well as the manner in which we express ourselves. MoBen reminds us that while everyone focuses on the changes brought about by technology, we may overlook the fundamental motivation behind the pursuit of technological progress, which is to investigate the non-material value of life.
As a result, in 2015, MoBen devoted himself to the Brain Factory project, which he extended in 2018 with Value of Values (VoV), which invited three-dimensional sculptor Tobias Klein and scholar Nicolás Mendoza for their skilled collaboration; VoV is not only an innovative artwork combining art and technology but also an attempt to explore the immaterial value of human beings, as well as to reflect on the relationship between human values and social development.
This project transforms brain information into data through audience participation and eventually into an abstract image. During the process, the participant's brain waves influence the image's evolution, resulting in a dynamic shape that converges on a specific meaning induced by a word representing one of the human values. The resulting 3D model is registered to the blockchain as a Non-Fungible Token (NFT). MoBen refers to all processes of quantified dematerialization as "sublimation[1],"  which means that disembodied thought constitutes a form of sublimation, a dematerialized informational entity.
Tokens can be viewed as vectors of real financial transactions on the Trading Platform; participants can also use them as a seed of art and continue to produce different artistic creations from the resulting 3D model. MoBen refers to this section as "Reification" (commodification). Since each derived shape represents the result of the interaction with each participant, each reified outcome is distinctively identified.
In this exhibition, MoBen employs 3D printing, artificial intelligence (AI), and blockchain technology to reveal the layers of interactions between finance and ethics, translation and transaction. The variety of expressions enables the audience to gain a more profound comprehension of the artistic concepts through an experience that is distinct from traditional artistic procedures.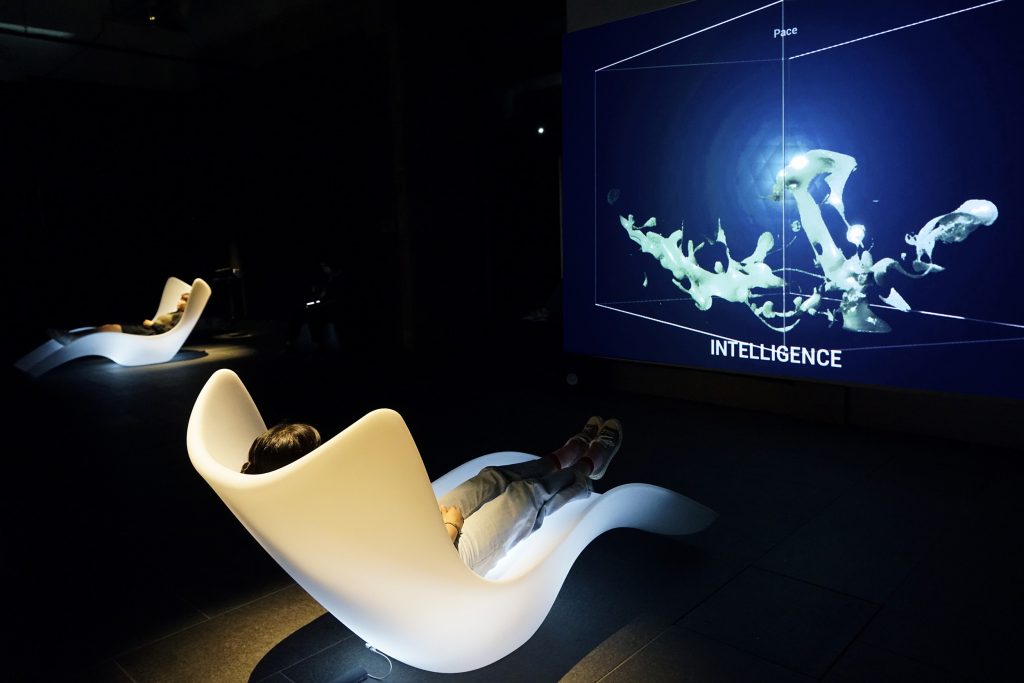 "Brain Workers" neuro-designing human values in the Brain Factory, at the exhibition of Morphogenesis of values, Asia Society HK, Nov. 2022 (ph. Ann Mak)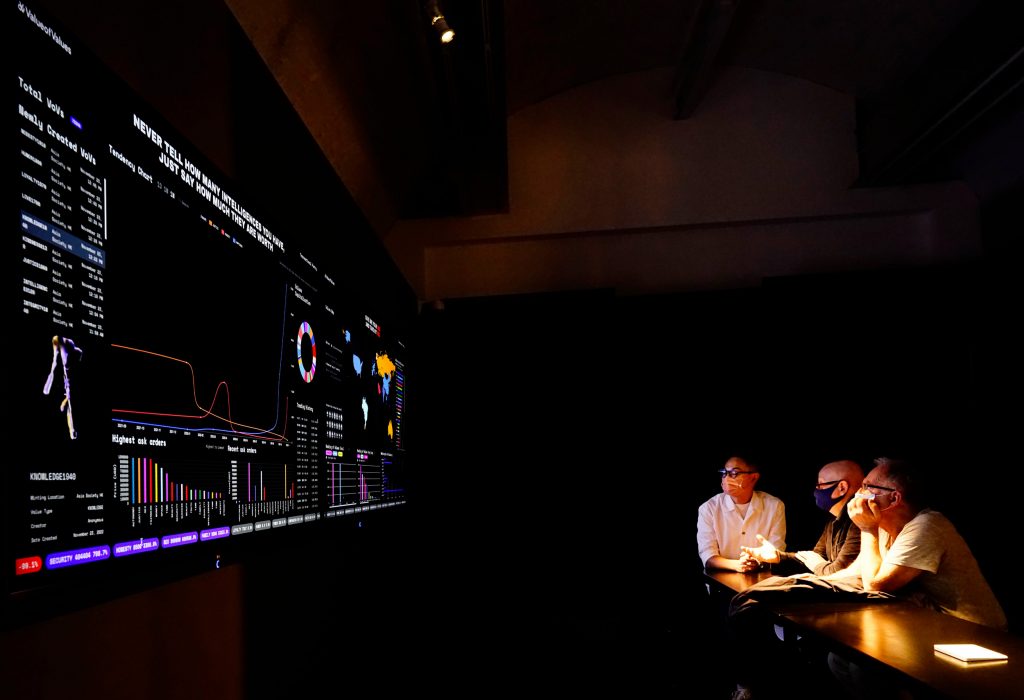 Brain Workers trading human values on the VoV.Art Trading Platform (ph. Ann Mak)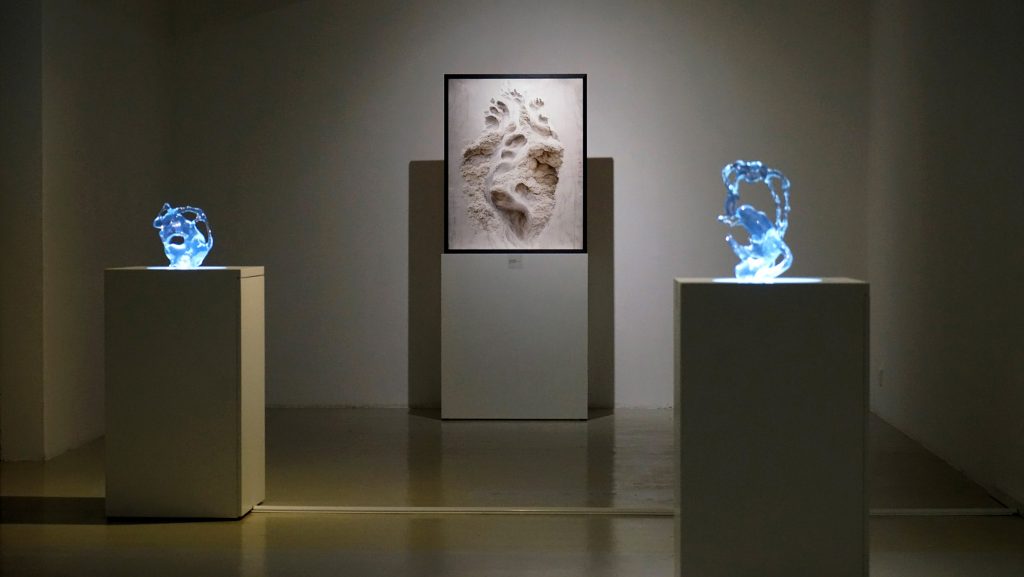 Openness0001 and Generosity0001 2 NFTs reified (3D printed) by Tobias Klein. In the middle, The Footprint of Freedom, AI generated. (Ph. Ann Mak)
Conclusion
For MoBen, technology is not a creative goal but a means of expressing ideas to understand society and human issues better. By fusing technology and art, his work delves into and poses questions about the transformations in human values and behaviors. This never-ending experiment challenges our perceptions and expectations of the future.
(Translated from traditional Chinese)
Images courtesy of the author
Exhibition: Value of Values
Organizer: Osage Art Foundation
Artist: Maurice Benayoun
Curator: Ann Mak
Venue: Osage Gallery 4/F, 20 Hing Yip Street, Kwun Tong
Date: 17.03.2023 – 29.04.2023