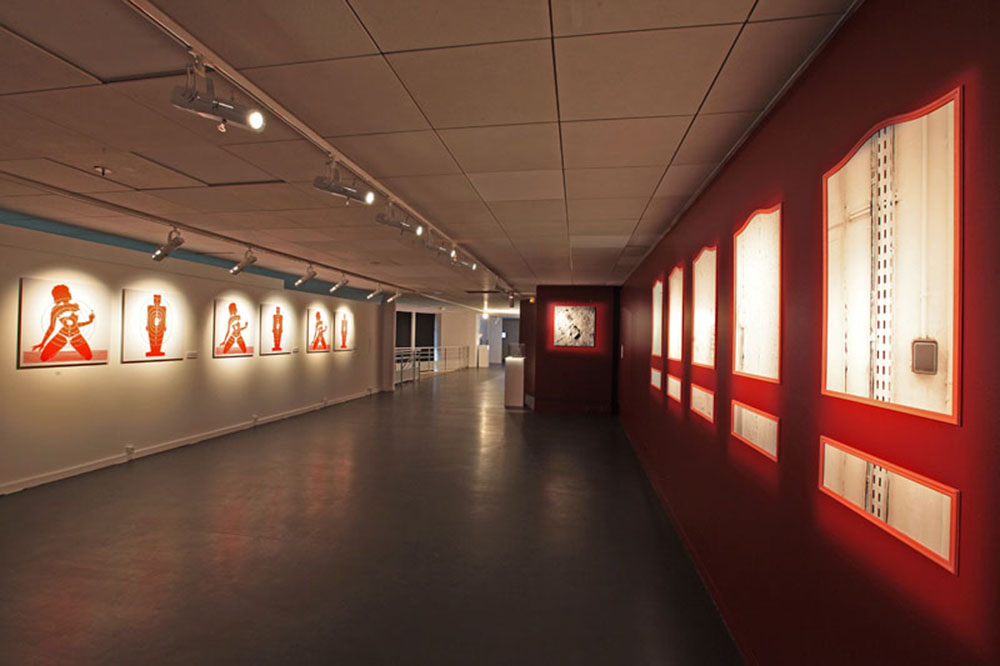 Out of The Dump
11.05.2011 > 3.07.2011 – Entrée libre
communiqué Centre des Arts
Pour ce dernier volet de la saison, le centre des arts invite l'esprit prolifique de Maurice Benayoun à investir ses espaces ainsi que ceux de la Médiathèque George Sand d'Enghien-les-Bains autour de deux propositions différentes. Jouant un rôle majeur dans le domaine des nouveaux médias, de l'image de synthèse et de la création numérique, il réalise entre 1990 et 1993 la série Quarxs en collaboration avec François Schuiten et Benoît Peeters. Ce programme est la toute première série en images de synthèse 3D haute définition et sera montré à la Médiathèque George Sand d'Enghien-les-Bains accompagné de tous les dessins et objets préparatoires ayant servi à la réalisation de ce projet.
Parallèlement à ces recherches, Maurice Benayoun s'atèle à un travail plus personnel en élaborant au quotidien un répertoire d'esquisses, de projets difficilement réalisables, de concepts pertinents, délirants, ou flottants qu'il dépose sans distinction dans un espace qu'il nomme The Dump (La Décharge).
L'exposition Out of the dump au centre des arts propose donc de puiser parmi ces projets inédits, etd'extraire de cet espace un panel inédit d'installations, de démonstrations et d'images qui prolongeront l'univers de l'artiste.
Interview par Véronique Godé ans le cadre de l'exposition, durant Futur en Seine
Une Monographie incluant un DVD est publiée à l'occasion de l'exposition: "Maurice Benayoun OPEN ART".
Commissariat et édition conçue et réalisée par Dominique Roland, directeur. contact presse : Isabelle Louis – tél : 01 42 78 18 04 – 06 82 36 21 34 – contact@isabellelouis.com
contact centre des arts : Anna Broquet – tél : 01 30 10 88 97 – abroquet@cdarts.enghien95.fr
centre des arts : 12/16, rue de la Libération – 95880 – Enghien-les-Bains – tél : + 33 (0)1 30 10 85 59 – www.cda95.fr
horaires : CDA : du mardi au vendredi de 11h à 19h – le samedi de 14h à 19h – le dimanche de 14 h à 18h
Médiathèque George Sand : 5-7, rue de Mora-95880 – Enghien-les-Bains – tél : + 33 (0)1 34 28 45 91
horaires : mardi et vendredi de 10h à 12h et de 14h à 18h – mercredi et samedi de 10h à 18h
Out of The Dump
Exposition Centre des Arts d'Enghien les Bains
Plus de 15 installations issues de la décharge à projets