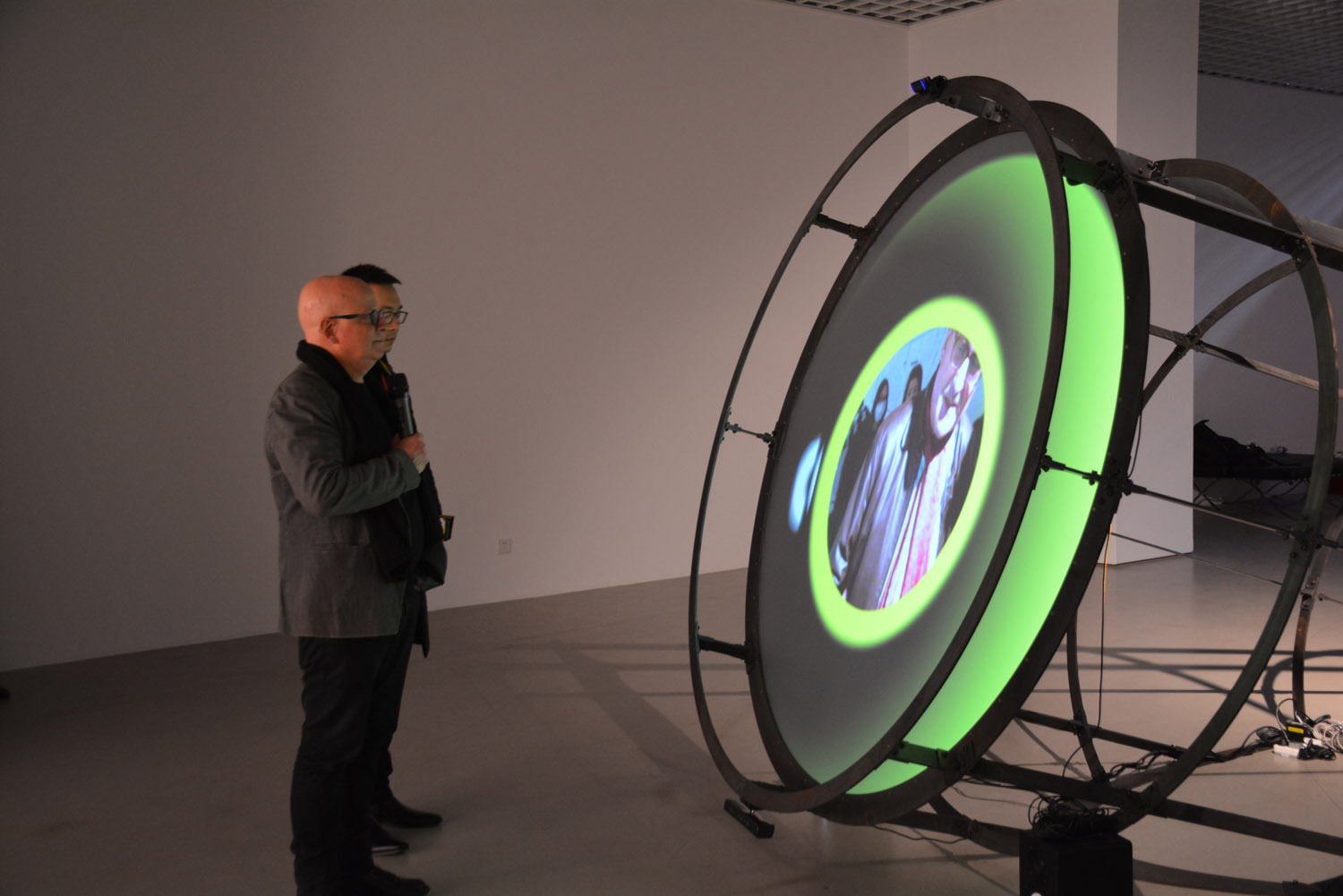 Border Diggers, Nanjing – Hong Kong Tunnel
Border Diggers
Students from CityU School of Creative Media and Nanjing University Art Institute tracking the obstacles in mediated communication.
Date: 20 Dec 2017 – 20 Jan 2018
Venue: Creative Media Centre 3/F, School of Creative Media, CityU HK (HONG KONG)
Museum of Fine Art, Art Institute Nanjing University (Nanjing, CHINA)
During the first decades of digital computing and networking, the emphasis was put on the potential of the "information highways". Everything was conceived on the model of transportation means, pipes rail, and roads. The positive vision, back then, was a simplistic interpretation of the notion of progress and speed in transaction and dialogue.
During the last semester, students from CityU School of Creative Media MFA/MA have been working together with students from the Art Institute of Nanjing University on the topic of "Obstacles in communication". They created works connected between both Universities.
On December 20th to January 20th, they exhibit their work in the Hong-Kong Nanjing Tunnel, a virtual reality tunnel that allows dialogue, visual communication inside virtual setups. This new partnership between City University of Hong Kong and Nanjing University opens a new potential for long-term cultural exchanges and academic collaborations. In Nanjing, This exhibition can be considered as the first media art exhibition in the City. Digging new tunnels between Nanjing and Hong Kong, Border Diggers draw our attention on the complexity of dialogue in the networked era.
Borders Diggers is an innovative exhibition and collaboration between Art Institute of Nanjing University and School of Creative Media of City University of Hong Kong. Focusing on the topic of "Communication and Obstacle" the project is inspired by the series of work by Maurice Benayoun, including Tunnel under the Atlantic, VR installation, between the Pompidou Centre in Paris and the Museum of Contemporary Art in Montreal 1995, Colors Tunnel (VR interactive installation, 2016) and Borders Tunnel (VR interactive installation, 2016). These works were presented in the JUST DIG/IT! exhibition in 2016 by Osage Gallery, Hong Kong. They are now exhibited together with the projects by 16 students from NJU and 17 students from the MFA program of CityU who conducted their artistic practices in this fall semester.
The Border Diggers exhibition includes:
• "Hello from the other side!" Huang Xiaowen, Li Yuanlu, Liu Sijia, Sun Yunhe, Zhao Jiayi
• "Closer"
Xia Yitao / Yakir Ron / Zhou Mengying / Mukeh
• "One step closer"
Cheng Ngayan / Huang Yajie / Jiang Xinzhi / Xu Yingqing / Zheng Shiqi
• "VISH"
Eugenia Kim / Lukasz Mirocha / Stefan Palitov
• "Deeper"
The PGCC project team
and also, in Nanjing Museum of Fine Art:
• "?-Centric"
Li Mengqi/ Pan Xiaoya/ Fan Zihui
• "Battery Low 5%"
Shang Enjie/ Ni Peihai/ Xiu Yuanxi/ Wu Yiyao/ Luo Qiwen
• "Icebreaker"
Lin Wensi/ Wang Yuanting/ Li Jue/ Liu Jinghan/ Kuang Suhan/ Wang Lu
All of these works, created by students and faculties are presented at Nanjing University Museum of Fine Art as well as the CMC Gallery, the School of Creative Media of City University of Hong Kong as the final outcome of this annual collaboration from December 20 to January 20, 2017.
Just Dig It! by Maurice Benayoun, is a parallel exhibition in the Nanjing Museum of Fine Art opening the same day
Dr Chen Jing, Nanjing University Art Institute
Prof Maurice Benayoun, School of Creative Media, City University of Hong Kong
A seminar will follow the opening
December 20, 2017
Participants: Andrea Baldini, Maurice Benayoun, Jing Chen, Andong Lu
Time: 3-5pm
Location: Nanjing University Museum of Fine Art
A lecture will be given by Prof Maurice Benayoun (Dec 18 at Nanjing University):
Recalculating… Are you Lost in the Future of Art?