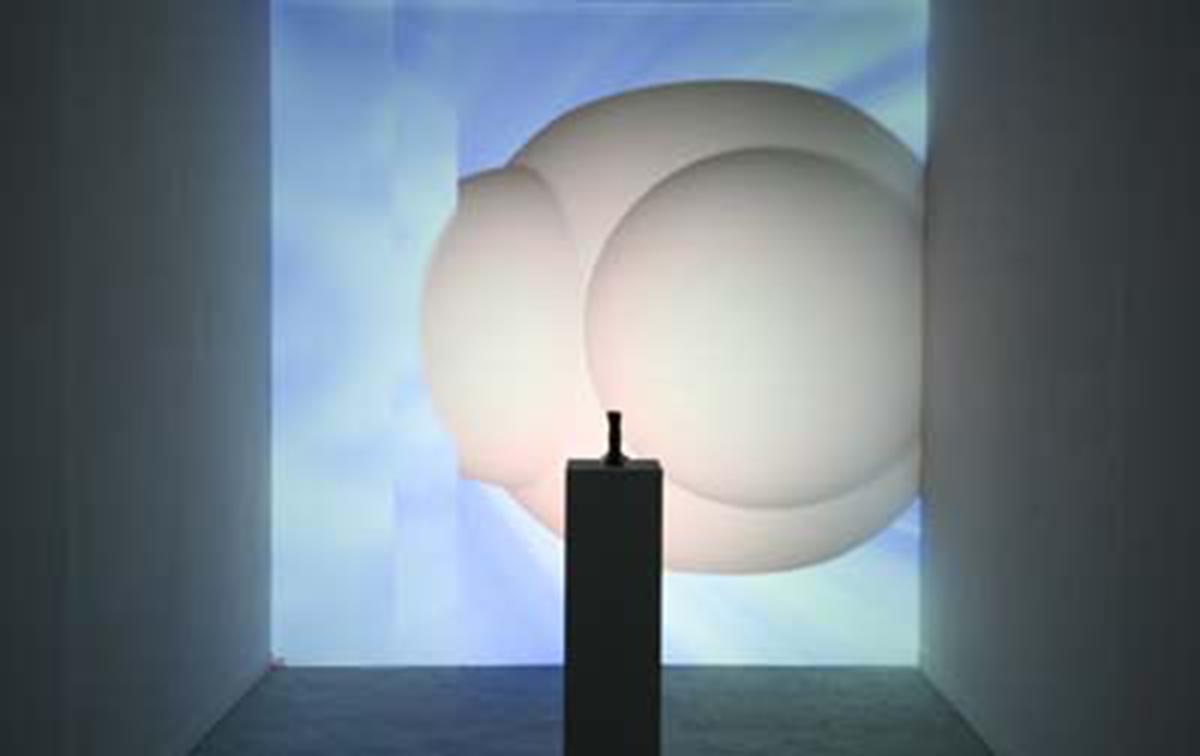 Is the Devil Curved?
VR, Intelligent Agents, Music
In November 1994,  Artifices 3 exhibition presented, in Saint-Denis, north of Paris, twelve interactive art installations, by artists like Masaki Fujihata, Christa Sommerer, and Laurent Mignonneau. Maurice Benayoun proposed his first virtual reality installation: Is God flat ? designed and produced by Z.A Production. Artifice 3 show was curated by Anne-Marie Duguet and Jean-Louis Boissier.
Is the Devil Curved ?
That was the beginning of a series of works called the Big Question. Three months after, an extended step, Is the Devil Curved? was presented on Canal + booth, during Imagina 1995, Monte Carlo.
In Is the Devil curved? as paradoxical as it seems to be, we dig labyrinthic corridors through the sky. The clouds are cut in real-time as the visitor moves. This air architecture has a purpose. We discover supple organic shapes slowly moving in portions of space. As we come closer, those plump shapes change their own behaviour, and sensitive to our "contact". The unveiled " diabolo" offered flesh shivers as soon as we draw near to it. Thus, we understand we are in front of an evil seduction game. We gradually discover those almost sensual shapes, (angels or devils?), rich in successive experiences, it tends to embody an ideal curved of seduction. The diabolo's shape adapts itself step by step, to the spectator's desire, as a matter of fact. Don't we have here a TV channel fantasy: creating shapes which are able to learn by themselves how to seduce the audience?
This is a diverted use of what we call " artificial life ", which talks about life (the purpose of art) beyond a basic demonstration, by placing shapes in space. The visitor of this virtual world truly exists within this world, changing at his contact. The meaning itself is in this relation. The interactive realism lies in the transposition of laws of physics, that rules the world, that rules now the meaning.
First exhibition: Imagina, Monaco, February 1995
Last Exhibition (restored "PC" version)  Eesi, Poitiers, France, January 2008
for the Is the Devil Curved? "PC" version :
Sound : Jean Baptiste Barrière
Digital development: David Nahon
PC Adaptation : Adrien Mazaud
Production: Z-A production, SGI, Canal plus with the support of the FIACRE and Eesi
Exhibition setting : Eesi team